Floor Stripping and Waxing
For top quality floor stripping and waxing, call the commercial floor cleaning experts at Insight Commercial Cleaning: (480) 470-8457. We've been making commercial floors look great for businesses located in the area for more than 6 years.
Our floor cleaning crew will safely remove old floor wax. We provide thorough, yet gentle cleaning for your floor with our planet-friendly floor cleaning products. We wax your floor to a beautiful, smooth finish. Call (480) 470-8457 today for a free commercial floor stripping estimate.
---
Call for a FREE Quote
---
We strip. We wax. You shine.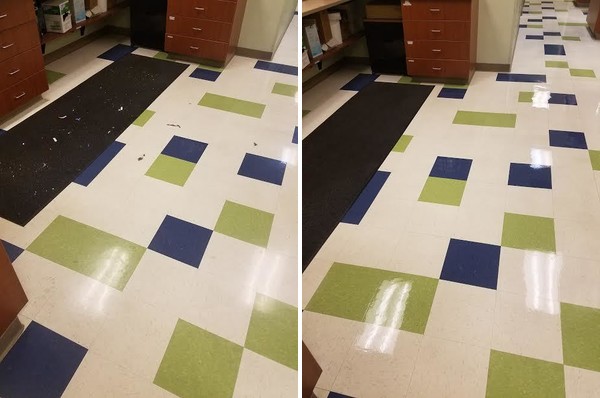 If you're a business owner, you know how important it is to have a floor that looks clean. So do your customers.
Make a good impression every time a customer walks through your doors with a beautifully cleaned and waxed floor.
Insight Commercial Cleaning uses effective wax stripping equipment to get rid of old, yellowed floor wax.
Then, we thoroughly wash your floor with a gentle cleanser to get rid of dirt and unsightly stains.
Our professional floor cleaning crew applies a smooth, fine layer of floor wax to give your floors a beautiful shine and a durable coating.
Call the floor cleaning professionals at Insight Commercial Cleaning to schedule a free floor stripping and waxing estimate: (480) 470-8457.
Our commercial floor stripping process.
Insight Commercial Cleaning specializes in commercial floor stripping. Over the past 6 years, we have developed an extremely effective floor stripping process that produces superior results every time. All work is done in accordance with OSHA safety standards.
First, we prep the area by relocating all office furniture. Our cleaners cordon off the area and ensure that caution signs are in place before beginning the floor strip process. The entire floor is dust mopped to remove dirt and debris.
Next, our flooring crew carefully prepares a concentrated floor wax stripping solution. We apply the solution to your commercial floor and allow just the right amount of time to effectively loosen the existing floor finish.
We use a powerful rotary floor scrubber to strip the old finish off your floor. We pay attention to corners and baseboard areas so your floor is properly stripped. Then, our commercial floor cleaners remove all traces of the dirty solution with a wet stripper vac.
The last step in our process is to thoroughly rinse your entire floor with fresh water combined with a neutralizing solution to remove all traces of the alkaline in the stripping solution. We wipe down all baseboards and corners. Once your floor is completely dry, we apply your new floor finish.
---
Call for Fast FREE Quote
Dial Area Code first please.
---